Awards & Recognition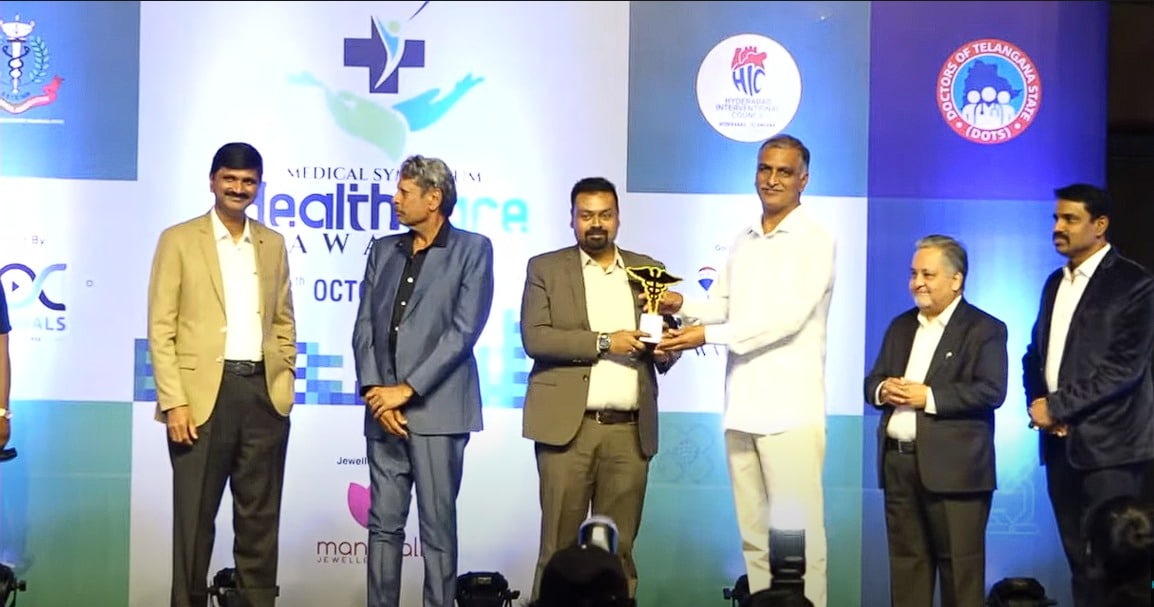 KIMS-SUNSHINE Hospitals has been receiving laurels from the outset and has quickly become a beacon of light for people in healthcare provision.
Some of the honours bestowed upon us have been listed:
Awards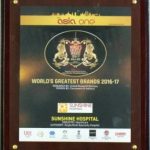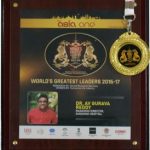 1.We are proud to receive the World's Greatest Brands and Leaders, 2016-17 award -Asia and GCC Countries for Healthcare Industry under Single/Multi Specialty Hospital Category and Brand Leader Award for Dr AV Gurava Reddy at the 3rd edition of the awards held The Meydan Hotel, Dubai. Process Reviewers – Price Waterhouse Coopers P.L.
2. Winner of the Most Patient-Friendly Hospital Award at Association of Healthcare Providers India (AHPI) Global Conclave, 2015
3. KIMS SUNSHINE HOSPITALS has been ranked amongst the Top 7 ORTHOPAEDIC Hospitals in the Country (THE WEEK MAGAZINE-NIELSEN SURVEY, 2014)
4. Best Single Speciality Hospital Orthopaedics by IMA & Govt of Telangana, 2014
5. Indus Foundation Lifetime Achievement Award for Dr A V Gurava Reddy, 2014
6. FICCI Award for Excellence in Customer Services, 2014
7. Best Orthopaedics Centre in India by Headlines Today, 2013
8. Most innovative companies in India, 2013
9. Innovation to reduce cost for patients, 2013
10.The Pharmacy team at KIMS SUNSHINE Hospitals has been certified with 'PHARMACIE DE QUALITE' with a 98% Score & PLATINUM Grading
1.NABH Accreditation:
It is a great honour to be on the list of accredited hospitals of NABH, a space reserved for those few prestigious healthcare providers who are capable of giving the best quality treatment to the people. This stamp of excellence is bestowed on a hospital or medical institute only after strict scrutiny, and multiple inspections by the board, which confirms that all operations of the hospital meet the high standards set by the board.
National Accreditation Board for Hospitals & Healthcare Providers (NABH) is a constituent Board of Quality Council of India. NABH is set up to establish and operate accreditation programme for healthcare organisations. The board is structured to cater to much-desired needs of the consumers and to set benchmarks for progress of health industry.
To Visit NABH, click this link http://nabh.co/Index.aspx
2.ISO Accreditation ISO 9001:2008
KIMS-SUNSHINE Hospitals never makes claims that are not backed by factual evidence. When we call ourselves one of best in the orthopaedic sector, we mean it.  In March 2017, KIMS SUNSHINE Hospitals became a member of the prestigious 'International Society of Orthopaedic Centres (ISOC)' – a marvellous achievement.
This society consists of 21 of the most well-renowned orthopaedic centres from all around the world – from 17 countries spread across 6 continents. Mayo Clinic (USA), Campbell Clinic (USA), Hospital for Special Surgery (USA), Royal National Orthopaedic Hospital (UK) among others, are part of this elite group. KIMS-SUNSHINE Hospitals is only the 2nd hospital from Asia to acquire a full membership.
The criteria to enter into this esteemed list of elite centres is quite long. Each centre must fulfil the following stringent criteria to become a member:
The centre should Function as a specialty orthopaedic hospital or as a large orthopaedic department within a hospital.
The centre should conduct at least 5000 total orthopaedic procedures per year.
The centre should have an orthopaedic staff of at least 20 orthopaedic surgeons who should collectively publish more than five annual articles in peer-reviewed publications.
The centre should conduct, and exhibit a commitment to basic and clinical research.
The centre should function as or within an academic centre (i.e., the member must have orthopaedic residents' or fellowship training).
In November 2017, the 8th ISOC conference took place in Sydney.
We, at KIMS-SUNSHINE, presented four of our research papers on this prestigious platform and all four of those were very well received and appreciated by legends of the Ortho fraternity like Dr. Sculco from New York and others.
The papers were presented by Dr. AV Gurava Reddy, Dr. Adarsh Annapareddy and Dr. Kushal Hippalgaonkar (all orthopaedic and joint replacement surgeons).