Best Multispeciality Hospital Near Me in Secunderabad, Hyderabad
KIMS-SUNSHINE Hospitals in Secunderabad is one of the leading multispeciality hospitals in Hyderabad, and a premier healthcare institution offering excellent treatment and care for patients across more than 30 medical specialities. The hospital in Hyderabad has state-of-the-art facilities and a team of highly qualified doctors who have delivered exceptional patient care for more than a decade. The commitment and clinical distinction the hospital offers for its patient's welfare is unmatched.  With over 350 patient beds and 14 operation theatres, the multispeciality, tertiary care hospital is supported by 30 plus specialities and a team of doctors. The hospital is prepared to provide the best, affordable and accessible healthcare for all health problems. The hospital is NABH accredited and constantly maintains high levels of quality, and safety to make patient consultation experience a positive journey. For those searching for top hospitals in Secunderabad, KIMS-SUNSHINE Hospitals is the best choice for preventive to palliative care.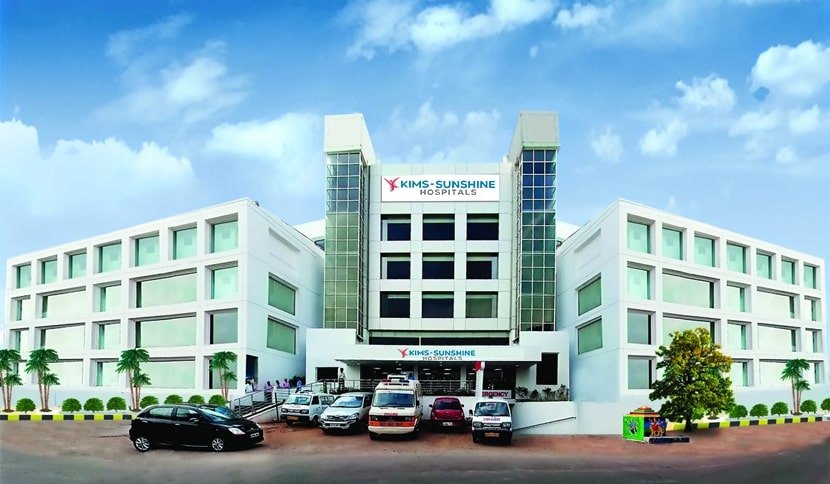 "As one of the most trusted hospitals in Secunderabad, Hyderabad. KIMS-SUNSHINE Hospitals continues to be a healthcare symbol of hope and healing for the people. The hospital has touched millions of lives and helped innumerable patients take a positive healing path through their healing touch. At the best hospital in Secunderabad, your health and well-being are the highest priorities, and the medical team is available round the clock to support you on your journey to better health. Consult with the best doctors at KIMS-SUNSHINE Hospitals near Secunderabad."
Health Blogs India
By Dr. Akash Shastry, MBBS, MD (DNB) Cardiology Double Cardiac Arrest: What You Need to Know and How to Improve Survival Chances  It beats tirelessly, all day, every day; the human heart is an extraordinary organ in the body only to keep us alive. But what do we have as a backup when it fails, stumbles, or stops not once, but twice? That is the scary truth of a double cardiac arrest, a rare and possibly life-threatening medical emergency that commands our attention.  Dive into the fascinating world of Double Cardiac Arrest and

Joint replacement is among the advanced medical surgeries of the joints of hip, knee, shoulder, ankle, elbow and fingers. It is a procedure where a damaged joint is removed and replaced with a new artificial joint to restore

By Dr. Chandra Bhushan, Senior Consultant Orthopaedic Surgeon Cracking the Code of Osteoarthritis: Causes, Symptoms, & Solutions If you've heard someone say the words "wear and tear arthritis", they're just talking about Osteoarthritis or OA in layman's terms. Is it one of the most common types of arthritis in the world? Yes. That's not the shocking part. The surprise is that, more recently, it has started to affect younger people than it has the older. Join me as we delve into Osteoarthritis: its causes, symptoms, and potential treatment solutions, simplifying management for
About Sunshine Hospitals
KIMS SUNSHINE is the best Hospital in Hyderabad with 30 plus specialities and more than 500 plus beds. The Hospital has been set up to offer qualitative care to all its patients. When it comes to quality tertiary care facilities across all the specialities, KIMS SUNSHINE Hospitals is the best multi speciality hospital in Hyderabad. By proving quality care for more than a decade, KIMS SUNSHINE Hospitals has been transformed into one of the most trusted and top-rated hospitals in Hyderabad. Top-notch medical experts and physicians provide world-class care collaboratively as a team in a patient-friendly environment with a focus on clinical excellence, patients' safety & dignity, transparency & affordability and accessibility of quality care to every patient.
KIMS SUNSHINE Hospitals is promoted by globally reputed Joint Replacement Surgeon, Dr. AV Gurava Reddy. It was founded in May 2009 by Dr. Gurava Reddy, with a vision to create a world-class medical facility, wherein patients are treated with compassion. The dynamic and visionary leadership of Dr. Reddy ensured rapid growth of the hospital and earned the coveted NABH accreditation from the highest body of accreditation in India. Among the top hospitals in Hyderabad that offer care across multiple specialities, KIMS SUNSHINE has gained a prominent place and emerged as the top multispeciality Hospitals. When it comes to orthopedic care, KIMS SUNSHINE Hospitals is the best orthopedic Hospital in Hyderabad. KIMS SUNSHINE has now become the second largest Joint Replacement Centre in South East Asia as patients from as far as Canada, USA, Sri Lanka, Bangladesh, Iran and majority of the African countries are being treated here.
Since its inception, KIMS SUNSHINE hospital has been offering world-class treatment and facilities to patients with compassion, teamwork, transparency and process-driven approach. By bringing in the best healthcare practices from across the world and by engaging the best doctors from India and abroad, KIMS SUNSHINE got the most prestigious and coveted NABH accreditation in a short span of time. This signifies KIMS SSUNSHINE's commitment to quality, safety and continuous improvement in the delivery of care to patients. Carrying forward the same spirit of commitment, KIMS SUNSHINE offers care for those who are in search of options, hope, compassion and cooperation as it delivers outstanding patient care on the principles of cooperation, compassion and innovation.
Why Choose Us?
KIMS-Sunshine Hospitals, Secunderabad is a Multi Speciality Hospital In Hyderabad and a leading provider of exceptional healthcare services. The hospital's team of highly trained professionals, including surgeons, nurses, and technicians, is committed to best-in-class care. To provide accurate diagnosis and efficient treatments, we support cutting-edge technology that is at the forefront of the field. In order to meet a wide range of healthcare demands under one roof, KIMS-Sunshine Hospitals offer a remarkably broad spectrum of medical specialities, from cardiology to orthopaedics and beyond. The hospital's patient-centric viewpoint strongly emphasises patient comfort and contentment, with empathetic staff members dedicated to providing individualised care. Adhering to international standards of hygiene, the staff assures a clean and secure environment for the patient. The hospital also aims to provide affordable healthcare with transparent pricing and various payment methods to help make healthcare accessible. The hospital also provides for the usage of insurance for all patients. KIMS-Sunshine Hospitals in Secunderabad has achieved communal trust through its unwavering aim to excel. The hospital also maintains a successful track record of patient experiences as an attestation of our dedication to providing cutting-edge care and facilities. KIMS-Sunshine Hospital, Secunderabad, offers itself as a popular choice for patients looking for outstanding healthcare services. Book an appointment with our specialists today.
Frequently Asked Questions
Which is the best multi-Speciality hospital in Hyderabad?
KIMS-SUNSHINE Hospitals, Secunderabad with a capacity of more than 350 patient beds, 100+ specialist doctors across 30 plus specialities are considered to be one of the best multispeciality hospital in Hyderabad. The hospital is also renown for its comprehensive care, clinical excellence, patient safety, transparency, affordability, and providing quality healthcare for all.
What is the No 1 hospital in Hyderabad?
Consistently ranked as one of the best healthcare providers in Hyderabad, KIMS-SUNSHINE Hospitals, Secunderabad, is recognized as one of the top hospitals in Hyderabad offering unmatched medical services and patient-centric care.
What is the advantage of multi-Speciality hospital?
Multi-speciality hospitals offer many medical services in one location thus enabling patients to get access to various specialties and treatments under one roof without the need for multiple hospital visits.
What is the difference between super Speciality and multi-Speciality hospital?
Super speciality involves While a multi-specialty hospital covers a broad spectrum of medical services across various specialties, a super-specialty hospital typically concentrates on one or two specific areas, such as neurology, cardiology, or oncology.
Multi-speciality hospitals support some of the major specialities like cardiology, gastroenterology, orthopaedics, neurology etc and have state-of-the-art facilities to diagnose and treat conditions. diseases with the help of an expert team of doctors and specialists. The patients are entirely taken care of in air-conditioned rooms and canteens inside with personalized care. Whereas super speciality hospital includes more specific treatment for patients suffering from a certain illness.
How many beds are there in KIMS-SUNSHINE Hospitals Secunderabad?
KIMS-SUNSHINE Hospitals, Secunderabad, has a total of 350+ beds, including 100 ICU beds and 14 state-of-the-art operation theatres within the hospital to offer comprehensive care and treatment to all patients.

When should you go to the Hospital?
In case of a medical emergency such as difficulty with breathing, accident, fractures, shortness of breath, dizziness, pain or pressure in the chest area, weakness, pain in the body, repeated vomitings and diarrhoea, unrestricted cough etc, a person should rush or go to the nearest hospital.
Which hospital is best for treatment?
KIMS-SUNSHINE Hospitals, Secunderabad is the best choice for the diagnosis and treatment of diseases and is considered to be the best for treatment in Hyderabad. The hospital has advanced medical services and a highly skilled medical team that ensures the highest quality of treatment around the clock.
What is the most trusted hospital?
Being one of the leading healthcare providers in Secunderabad area for more than a decade, KIMS-SUNSHINE Hospitals, Secunderabad, holds a reputation of being one of the most trusted hospitals in Hyderabad providing superior medical care and quality services to patients of all age groups.