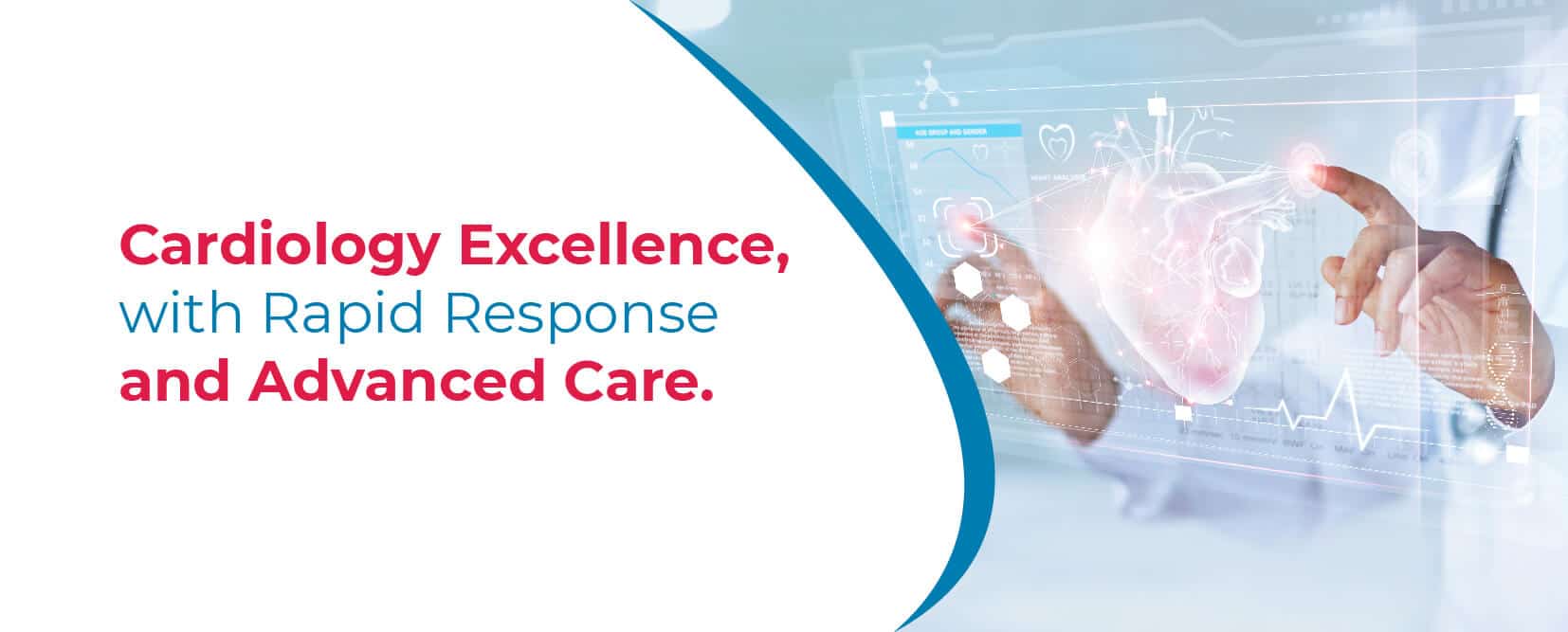 Cardiology
Best Cardiology Hospital
In Begumpet, Secunderabad & Hyderabad
KIMS-Sunshine Hospital is one of the best cardiology hospitals in Hyderabad and boasts a board-certified team of exceptionally skilled specialists who can diagnose, treat and offer support for all cardiological issues including commonly known ailments like high blood cholesterol, chest pain, heart attacks and more complicated problems like atherosclerosis, angina, ventricular tachycardia, restrictive and hypertrophic or acquired and inherited cardiomyopathy.
KIMS-Sunshine Hospitals is the best cardiac hospital in Hyderabad offering best-in-class services and cutting-edge technology to help prevent, diagnose, treat or recover your heart and related problems.
KIMS-Sunshine Cardiology Hospital provides patients with the best cardiologists in Hyderabad to help with their cardiological problems, who ensure the best care possible to the patients, along with the support staff.
The skilled healthcare personnel at the best heart hospital in Hyderabad, KIMS-SUNSHINE Hospital provide the below-listed services for patients.
Open heart surgery
Heart transplant
Heart bypass surgery
Angioplasty surgery
Heart stent surgery
CABG surgery
Sclerotic aortic valve
TAVR surgery
TAVI surgery
Cardiothoracic and vascular surgery
Cardiothoracic Surgery
At one of the top cardiology hospitals in Hyderabad, KIMS-Sunshine Hospitals, the department of cardiothoracic has the most revolutionary technology and best-in-class facilities. Cardiothoracic and vascular surgeons, as well as paediatric and congenital cardiac surgeons, make up the team. They undertake adult cardiac surgery, general thoracic surgery, congenital cardiac surgery, and heart transplant surgery. Patients deserve the best medical support and care while undergoing any ailment, and KIMS-Sunshine Heart Hospital in Hyderabad is here to provide just that.
Paediatric Cardiothoracic Surgery
KIMS-Sunshine Hospital is one of the best cardiology hospitals in Hyderabad and has experts specialising in performing paediatric cardiothoracic surgery to treat or correct defects and help children live healthy and longer lives. The Heart Hospital in Hyderabad looks to help fulfil every child's needs in wellbeing, and thus has dedicated paediatric cardiothoracic surgeons who perform surgeries with extreme precision and a great success rate. Along with the experience of performing non-invasive paediatric surgeries, several experts at the best cardiology hospital in Hyderabad see-through ailments for children like coarctation of the aorta repair, patent ductus arteriosus litigation, and TAPVR, among others.
Cardiothoracic surgeries
Minimally Invasive heart surgeries
Coronary Bypass Surgery- Beating Heart (on-pump/ off-pump)
Aneurysm and Root Repairs
Implantation of ventricular assist devices
Cardiac surgeries for Congenital malformities
Heart valve replacement and repair surgery
Major Aortic surgeries
LVAD Implants
Grownup Congenital Cardiac Surgeries
CT Angiography
CT Scanner
Echocardiography system
Colour Dopplers
Holter Monitor
State-of-the-art operation theatres (well equipped with latest technology)
Smart CCU's
State-of-the-art Cath Lab
Echocardiography
Advanced Electrophysiology Lab
Round-the-clock cardiac emergency services
Cardiac rehabilitation Programs
Interventional, Cardiovascular and Cardiothoracic services
24/7 Availability of trained cardiologists
Cardiothoracic CCU's with round the clock care
Post-operative healthcare
Paediatric Cardiology Unit
Rapid Action Team for Emergency Cardiac Care
Our cardiologists, interventional cardiologists, cardiovascular surgeons, electrophysiologists work as a collaborative team to understand the medical condition of a complex and critical case and recommend appropriate treatment plan accordingly. During emergency conditions, our team takes timely and well-informed decisions after a thorough due diligence approach.
Best Cardiologists in Hyderabad
Why Choose Us?
The cardiology department at KIMS-Sunshine Hospital, Begumpet, boasts a team of the most highly skilled cardiologists in the country, specialising in treating various heart ailments. KIMS-Sunshine Hospital, being one of the best heart hospitals in Hyderabad, is devoted to providing the highest quality of preventative, diagnostic, and restorative cardio care with the combined potential of the support staff, technicians, and best cardiologists in Hyderabad. At KIMS-Sunshine Hospitals, one of the best cardiology hospitals in Hyderabad, our specialists offer services in the diagnostic, non-intrusive, interventional, and surgical subspecialties of cardiology, among others.
The hospital has a legacy of appreciative and successful patient outcomes, minimally invasive diagnostic and surgical procedures, and exceptional cardiology care for patient's well-being. Choosing the best cardiology hospital in Hyderabad is paramount when it comes to matters of the heart. You will get nothing less than the best care possible at for your heart. Put your trust in the KIMS-Sunshine Hospital team to protect your cardiovascular health. Book an appointment with our top cardiologists today.
Frequently Asked Questions
Which hospital is best for the heart in Hyderabad?
When it comes to the prevention and treatment of cardiac diseases, KIMS-Sunshine Hospital, Begumpet is regarded to be one of the best heart hospitals in Hyderabad.
Which hospital is best for heart patients?
KIMS-Sunshine Hospital, Begumpet is one of the best hospitals for  heart patients in Hyderabad.
Which city is best for heart treatment?
Taking into account the multiple world-class hospitals and facilities, Hyderabad is one of the best cities in India to have a heart treatment. One of the best hospitals for heart treatment is Kims-Sunshine Hospital in Begumpet.
Which surgery is best for heart blockage?
The ideal procedure for treating a heart block is coronary artery bypass grafting (CABG), however depending on the circumstances of each case, a different procedure can be suggested. KIMS-Sunshine Hospital has a team of highly skilled specialists who can help suggest the best procedures for each patient as per their requirements. Book an appointment today.
Which is the best hospital for cardiology in Hyderabad?
One of the best hospitals for cardiology in Hyderabad is KIMS-Sunshine Hospital in Begumpet. It houses the most experienced specialists, the latest technology and the best available care.
Which hospital is best for cardiology?
Having state-of-the-art facilities and services and board-certified doctors under the same roof, KIMS-Sunshine Hospital, Begumpet is one of the best cardiology hospitals in Hyderabad.
How much does open heart surgery cost in Hyderabad?
Depending on the institution, the procedure, and the particular situation, the price of open heart surgery in Hyderabad may change. Contact KIMS-SUNSHINE Hospitals, Begumpet on 040 4455 0000 for more details on the pricing for the surgery in Hyderabad.
Which hospital is best for angioplasty?
Housing the best interventional cardiological surgeons, KIMS-Sunshine Hospital, Begumpet is one of the best hospitals for angioplasty in Hyderabad.
Health Blogs for Cardiology
By Dr. Nihal Ahmed Khan, MBBS, DM (Cardiology) Maintaining a healthy heart is paramount for overall well-being, and one of the most effective ways to achieve this is through regular exercise. In the realm of heart disease prevention, a dedicated cardiovascular workout emerges as a key player. Discover the profound impact of regular cardiovascular exercise on heart health. Explore the science behind preventing heart disease through a dedicated workout routine. Understanding the Connection The human heart is a remarkable organ, tirelessly pumping blood to sustain life. However, it is not invincible, and various

By Dr. Narasinga Rao Pantula, MBBS, MS (Gen. Surgery), MCh (Cardiothoracic Vascular) In the bustling rhythm of our daily lives, it's easy to underestimate the silent threat that often lurks within – hypertension. We, at KIMS-Sunshine Hospitals recognise the importance of shedding light on this pervasive yet often overlooked condition and its profound impact on heart health. Explore the silent threat of hypertension, its impact on heart health, and preventive measures for a strong and consistent heartbeat. Here's your road map to a better future. Understanding Hypertension: The Silent Culprit Hypertension, also known

By Dr. Kavya Annapareddy, MD (Gen. Medicine), DRNB (Cardiology) Heart disease is often stereotypically associated with men, but the reality is that it affects women just as significantly. In fact, heart disease is the leading cause of death for women worldwide. Despite this, there exists a considerable gender gap in cardiovascular awareness, prevention, and treatment. Understand the paramount need to raise awareness about women's heart health by recognising specific symptoms, promoting prevention, and closing the gender gap in cardiovascular health. One of the key challenges lies in the misconception that heart disease