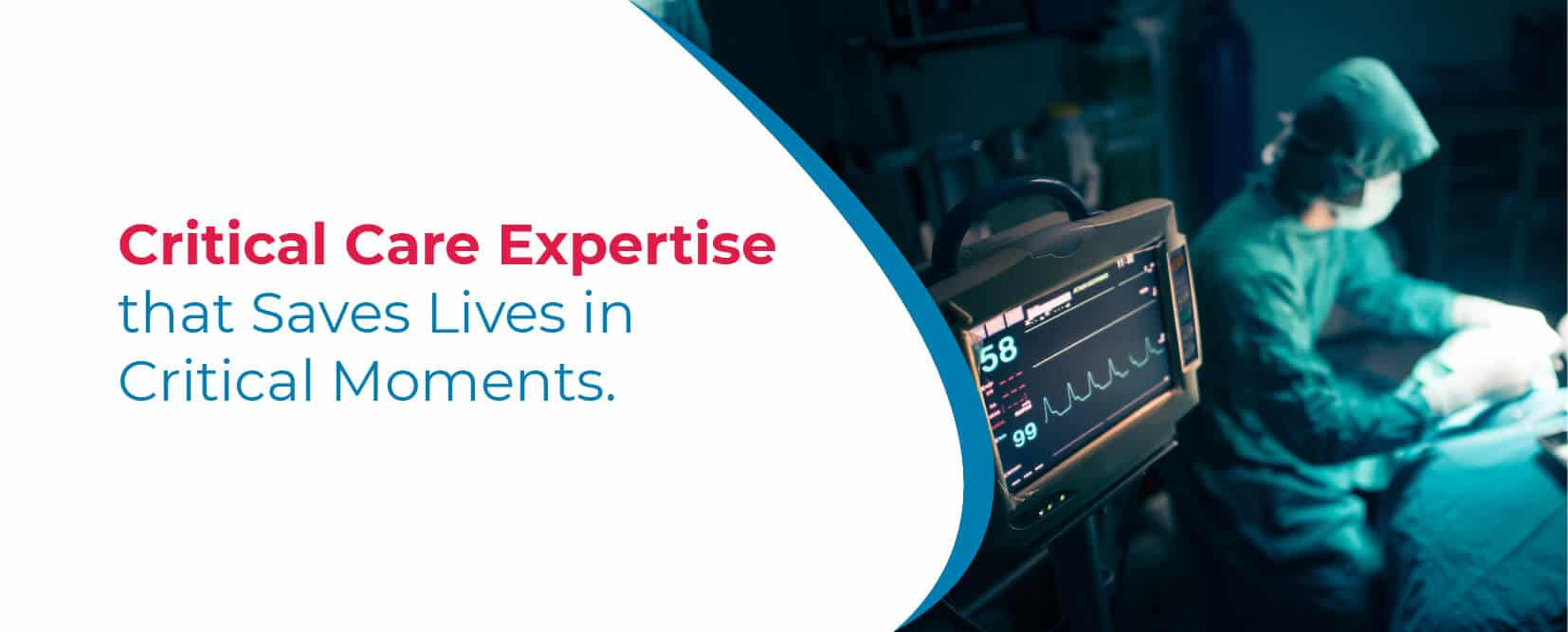 Best 24/7 Critical Care Hospital
In Begumpet, Secunderabad & Hyderabad
Critical care is provided to patients who need immediate care for their life-threatening health conditions – chronic illnesses, life-threatening trauma, accidental injuries, burn injuries, and other emergencies like organ failure, respiratory failure, neurological emergencies, liver disorders and failures, sepsis, overdose and poisoning, Asthma and COPD, multisystem trauma, complications arising out of pregnancy and tropical diseases.
The Critical Care Unit (CCU) at KIMS-SUNSHINE Hospital in Hyderabad offers specialized, sophisticated and responsive care for critically ill patients. Our hospital is conveniently located near you in Hyderabad, ensuring quick access to critical care services when you need them the most.
Our CCUs adhere to universally accepted safety norms and maintain a strong audit culture to ensure the highest level of patient safety. With 24/7 availability, our CCUs provide constant monitoring and have quick access to laboratory, diagnostic, and radiology departments, ensuring comprehensive care for our patients.
At KIMS-SUNSHINE Hospitals critical care centre, experienced and trained critical care specialists, critical care nurses, pulmonologists, respiratory therapists, clinical pharmacists, respiratory care technicians, and support staff offer round-the-clock care to our patients. We utilize sophisticated diagnostic, monitoring, and therapeutic technology to revive and restore organ system functioning, addressing the patient's underlying illness or injury diligently.
If you require critical care services, trust KIMS-SUNSHINE Hospitals, the leading critical care hospital in Hyderabad. Our team is dedicated to providing the best possible care for our patients' critical conditions
If you are looking for critical care near you, please contact KIMS-SUNSHINE Hospital. We are a critical care hospital in Hyderabad with a state-of-the-art CCU that can provide the best possible care for your loved ones.
Sophisticated Life Support Systems
Intensive Monitoring Systems
Respiratory Support Systems
High-end Ventilators
Dialysis Unit
Advanced equipment for cardiac and neurotrauma patients
High-end Intensive Care Units
Neonatal Intensive Care Units (NICU)
Intensive Cardiac Care Units
All ICU's are equipped with robust monitoring systems
Extra Corporeal Membrane Oxygenation (ECMO) Therapy
High Dependency Units (HDU's)
Experienced Critical Care outreach Team
Advanced technology to ensure patient safety
Board-certified specialists and seasoned critical care nurses
Isolation rooms for immune-compromised patients
Post-intensive care services
Rehabilitation services – Physical and occupational therapists
Frequently Asked Questions
What is the difference between ICU and critical care unit?
ICU (Intensive Care Unit) is a broader term that encompasses various specialized units within a hospital, including the Critical Care Unit (CCU). The CCU is a specific area within the ICU that focuses on the care of critically ill patients with cardiac conditions.
What is a critical care unit in a hospital?
A critical care unit, also known as an intensive care unit (ICU) or critical care department, is a specialized area within a hospital that provides comprehensive and intensive care to critically ill patients. It is equipped with advanced medical technology and staffed by a highly skilled healthcare team.
Which is critical, ICU or CCU?
Both ICU and CCU are critical care units, but the level of specialization differs. The ICU is a general term that includes various specialized units, while the CCU specifically caters to patients with critical cardiac conditions.
What are the three levels of critical care?
The three levels of critical care are:
a) Level I or Basic Critical Care: Involves the provision of fundamental critical care services and monitoring.
b) Level II or Progressive Critical Care: Provides more advanced monitoring and interventions for patients with unstable conditions.
c) Level III or Subspecialty Critical Care: Offers specialized critical care services for patients with complex and critical conditions, often requiring highly advanced interventions and expertise.
Which patients are admitted to the CCU?
The CCU primarily admits patients with critical cardiac conditions, such as heart attacks, severe arrhythmias, heart failure, and post-cardiac surgery patients who require close monitoring and specialized care.
Who needs critical care?
Critical care is required for patients who have life-threatening conditions or illnesses that necessitate constant monitoring, advanced interventions, and specialized medical expertise. This can include patients with severe injuries, organ failure, respiratory distress, sepsis, or other critical medical conditions.
Which is the best critical care center in India?
KIMS-SUNSHINE Hospitals, located in Begumpet, is renowned for its excellence in critical care services and is considered one of the best critical care centers in India. Their multidisciplinary team of highly skilled doctors, state-of-the-art infrastructure, and commitment to patient care make them a preferred choice for critical care needs.
What is the highest level of critical care?
The highest level of critical care is Level III or Subspecialty Critical Care. This level involves specialized care provided by expert clinicians, advanced technology, and specialized units dedicated to managing complex and critically ill patients.
Health Blogs for Critical Care
Let's understand our lives. Let's break it into days. Every morning, we wake up, either to our alarms going off or with our mothers pulling off our blankets and switching off the fans.